East Yorkshire towns 'unprepared' for weather emergency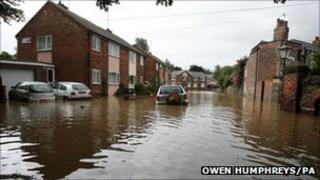 Up to 40% of towns and villages in East Yorkshire do not have plans in place for dealing with emergencies such as flash floods or heavy snowfall.
In 2007 thousands of properties in the area were damaged when heavy rainfall led to severe flooding.
East Riding of Yorkshire Council has been encouraging town and parish councils to draw up contingency plans for dealing with such incidents.
Some parish councils said they did not have the resources to make one.
A council report said the importance of community resilience was highlighted during the 2007 floods and when severe weather hit many parts of the UK last year.
It said: "Some communities were cut off and had to fend for themselves because responding organisations prioritised life-threatening emergency calls."
Help offered
The community emergency plans the authority has asked councils to produce should include information such as contact details for neighbourhood watch members and community groups and the locations of emergency shelters.
Driffield, which has a population of 12,000, is one town which does not have a plan in place.
Mayor Joyce Fletcher said: "At the moment we don't have the facilities, we don't have the manpower."
Alan Bravey, East Riding of Yorkshire Council's emergency planning manager, said: "We are delighted that 59% of parish councils either have a plan or are in the process of creating a plan.
"We obviously want to make sure that all parish and town councils that want to produce a plan have got the information and resources available to do that.
"For the parish and town councils that have told us they don't have the resources to write a community emergency plan, we are seeing if we can provide shorter plan templates, extra guidance documents, that sort of thing."