Hull wind turbine factory plans submitted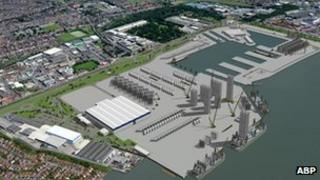 A series of planning applications for a new £200m wind turbine factory in Hull have been submitted.
The facility would be built by German firm Siemens to construct turbines for offshore wind farms in the North Sea and be opened in late 2014.
It is part of a wider plan to transform Hull's Alexandra Docks into a "Green Port" for renewable energy firms.
Siemens project manager Dan McGrail said: "It's a really important milestone for the project."
He added: "A lot of work has been done in the last year.
"We've obviously had to consult with numerous stakeholders and I think it is really positive step. It really signals a timeline for us now on this project."
Mr McGrail said the factory would employ 700 people making the blades and turbine generating units, known as nacelles.
The project is being developed by the docks' owners Associated British Ports (ABP).
Matt Jukes, ABP port manager for Hull and Goole, said he hoped the wider Green Port project would eventually create thousands of new jobs.
He said: "I am sure once we're sticking shovels in the ground for the Green Port scheme the inquiries for the wider supply chain, the Siemens supply chain making components other than nacelles, will pick-up.
"We've got the right areas and attractive investment criteria and structures for the supply chain."
The planning applications have been submitted to Hull City Council and the Marine Management Organisation, which is the body responsible for regulating developments at sea.
It is expected that a decision on whether to approve the scheme will be made by next summer.