Brough BAE staff meet prime minister over job cuts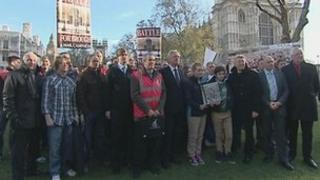 Workers facing redundancy from BAE's plant in East Yorkshire have met David Cameron in Downing Street.
They presented a petition, which includes photographs of those set to lose their jobs, to the prime minister.
The delegation was part of a group of more than 100 workers and their families who travelled to London to lobby MPs.
The defence giant announced plans in September to cut posts at its Brough site to maintain its competitiveness.
The group also met Labour leader Ed Miliband and East Yorkshire MPs.
Unite union convener Ian Gent, who attended the meeting in Downing Street, said the PM had agreed to talk to Ian King, chief executive of BAE Systems, and to the Department for Business, Innovation and Skills about the redundancies.
Mr Gent said: "The other key element is we took the petition, which was a large part of what today was all about.
"The lady behind all that, Maggie Turpin, made it really clear, pleaded with him, 'please don't just pretend they're there, look at those pictures in it and read some of the stories of those families'. Because that's what this redundancy is about."
'Devastating for area'
Nearly 900 workers are facing redundancy at the factory and about 1,400 jobs are due to go in Lancashire at Samlesbury and Warton.
A 90-day consultation was started by the defence contractor into the job losses, which is expected to finish on Boxing Day.
Jackie Green, who has worked at the Brough site for 24 years, said the threat of losing jobs was "devastating for the area" and that the meeting would not make a difference.
"We've all got to hope but I don't believe we're going to be saved. I really don't.
"I think we've gone too far down the line now, people are starting to leave the site.
"Obviously when they get another job they're going to go for it. I don't blame them, if I get that opportunity I will too.
"Warton and Samlesbury are taking most of the work back off us or, from what I've heard, it could be going to India so I don't think there's much hope for Brough at all now."