Hull and East Yorkshire sees rise in home birth numbers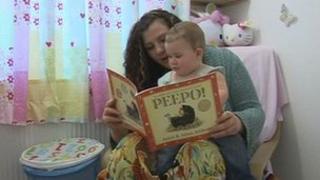 The number of home births across Hull and East Yorkshire could rise by 15% over the year, NHS bosses have said.
The rise is thought to be due to the closure in July of the Jubilee Birth Centre at Castle Hill Hospital.
The unit, which is the region's only natural birth centre, was shut after problems with staffing levels.
The Royal College of Midwives said that home birth was only an option for women with a low risk and uncomplicated pregnancies.
Across the UK, the number of home births have been falling over recent decades.
'Much less intervention'
According to figures from the Office of National Statistics, on average 30% of births in the 1960s took place at home. In 2010 that figure was 2.5%.
Hull-based midwife Julie Green, who runs an advice and support service for pregnant women, said she would "really love" to see more births at home.
She said that particularly women on their second or third babies would benefit, "simply because there is much less intervention".
Jacque Gerrard, director of the Royal College of Midwives, said: "This is an option really for a woman with an uncomplicated pregnancy and low risk.
"So, that really is where the choice ends. And that is a large number of women I have to say. A lot of women have uncomplicated pregnancies."
A decision on the future of the Jubilee Birth Centre is expected to be made by the Hull and East Yorkshire Hospitals NHS Trust in January.