Goole floods: Yorkshire Water funds £275,000 drain study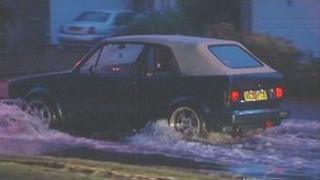 A water company is to fund a £275,000 study of the drainage and sewerage systems in Goole following flash floods in the town last year.
The news comes after a report by East Riding of Yorkshire Council recommended improvements and remedial works to Yorkshire Water's pumps.
The council estimated more than 64mm of rain fell in an hour causing extensive flooding to properties on 3 August.
Yorkshire Water admitted that its pumping station had failed.
The study will assess if any improvements are to be made to the town's drainage systems and the company will be testing all its pumps in the area.
The water company said it would also work with the council to look into constructing an additional surface water sewer and pump at Millennium Way.
'Traumatic impact'
Wendy Kimpton, the flood strategy manager at Yorkshire Water, said: "No drainage system could realistically have been expected to cope with the sheer volume of rain which fell over a very short period on 3 August 2011.
"The subsequent flooding had a traumatic impact on many people in the town and it's incumbent on all the agencies involved to continue to work together to minimise the risk of flooding in the future."
Following an investigation into the floods, the council has outlined a set of recommendations including an "overhaul of communication and response procedures" so that emergency services, the council and Yorkshire Water can respond faster to future flooding incidents.
A rain gauge would be installed in and around Goole by the council to record accurate measurements and give early warnings of intense rainfall alleviating the risk of potential flooding.
It also said there would be further investigations "in order to mitigate and reduce the affects of future incidents" in the area.