Statue to recognise Scunthorpe's steelworkers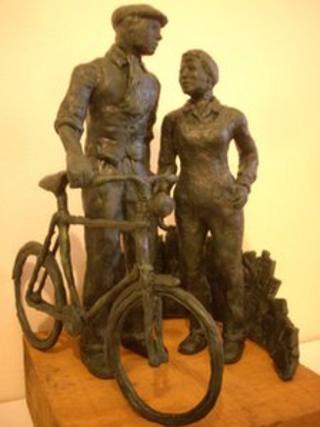 Plans for a 17ft sculpture to recognise Scunthorpe's steelworkers and their families have been revealed.
It will show a man pushing a bike walking alongside a female colleague in front of a backdrop of a steel works.
It will be made from steel and created by local artist and sculptor Michael Scrimshaw.
The project is expected to cost £40,000 and campaigners hope to have the sculpture erected in Church Square by October.
The Scunthorpe Steeltown Group said it would be a fitting tribute to the men and women who have worked in the town's steel industry.
The former mayor of Scunthorpe, Jim Pearson, 70, who is also a retired steelworker and chairman of Scunthorpe Steeltown Group, said: "Michael has done a great job and we're all happy with how it will look.
"We need something to represent all the former steelworkers and show some kind of recognition to [current] workers."
Mr Scrimshaw, 40, said he has "a great respect for the steelworkers and their families".