Concerns over reduction in Humber Bridge tolls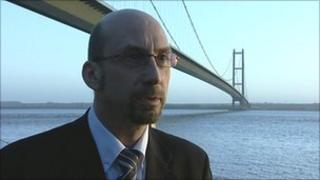 A businessman who submitted proposals to buy the Humber Bridge's debts has warned that the deal to bring down the tolls will not service its debt.
Hull-based Malcolm Scott said the Bridge could "not afford to pay £180m debt" if the tolls were halved.
The chancellor announced last November that the government would write off £150m of the bridge's £330m debt.
The four local councils on the bridge board are yet to agree on how the remaining debt will be managed.
But North East Lincolnshire Council has rejected the current proposal of equal shares and has suggested that larger authorities take on more liability.
Mr Scott, a chartered surveyor, submitted plans to the Department of Transport to buy the Bridge's debts last year.
'Not sustainable'
While Mr Scott is in support of the planned changes, he believes that the government's projection for the volume of traffic on the Humber Bridge has been over estimated and will not generate enough money to service the remaining debt.
"On basic mathematics you can't afford to pay £180m debt if you halve the toll income," he said.
"I don't think the overall scheme is sustainable as it stands."
The Conservative MP for Brigg and Goole, Andrew Percy, said he was confident the issue would be resolved soon.
"The Bridge board and the various local authorities are working through the figures with the Treasury, so things are happening in the background and hopefully we'll have something more concrete in the next few weeks."
In December, Chancellor George Osborne called for the bridge tolls to be slashed within two months.
The chairman of the Humber Bridge Board, David Gemmell, said the £3 charge for a one-way bridge crossing by car would be halved by the end of February.