Vandals force closure of new bridge in Scunthorpe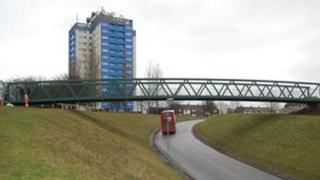 A bridge which opened four weeks ago has closed after vandals threw stones from it onto passing vehicles below.
The bridge on Bridges Road, Scunthorpe, was installed last month as part of improvements to the town's cycle network routes.
The council said it would remain closed until a solution was found.
It is looking at a number of options including installing surveillance cameras or a new lighting scheme.
Chris Mathews, an assistant director with North Lincolnshire Council, said: "There's been a number of incidences that happened on Friday afternoon where some youths were identified as throwing some rocks and mud at vehicles.
"We've tried to make the site safe by closing the bridge.
"The issue we had really was to put the priority of the motorists' [safety] first because the potential consequences of - say a brick going through a windscreen - could have been very serious, if not fatal."