Housing development to start on former Hull City stadium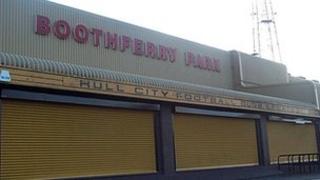 Work is expected to start next month on the development of more than 200 homes on the former Hull City football stadium, Boothferry Park.
Developers Strata Homes received planning permission last May to build on the 10-acre site on Boothferry Road.
About 234 homes will be built at the partly-derelict site over the next seven years.
It was Hull City's former ground for 56 years before the club moved to the current KC Stadium.
The Tigers played their last game at Boothferry Park in 2002.
Last month, developers opened the stadium gates to allow football fans and former City players to bid a final farewell to the old ground.
Former Hull City striker Andy Saville was among the hundreds of fans and former players that stood on the ground for the last time.
He said: "It [was] absolutely brilliant. I grew up on this stand on Bunkers Hill where me dad used to take me when I was a young kid and all I ever wanted to do was play for Hull City.
"It's quite a sad occasion really. It's been here for that many years. The old Boothferry Park pitch was probably one of the best I've ever played on. But it's sad to see it the way it is now."
Andrew Weaver, managing director of Strata, said: "We fully respect the former glories of this fantastic site.
"I would like to personally assure the Tigers' fans and local people that our development will seek to recognise the importance of the former stadium and this will be sympathetically reflected within the new development."