North Lincolnshire Council buys £3,500 Scunthorpe 'email' bins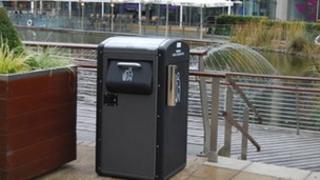 Six solar-powered bins which send an email when they need emptying are being bought by a council for £3,500 each.
Council leaders said the "Big Belly" bins would help make Scunthorpe town centre more attractive.
The bins are fitted with waste crushers so they can hold up to eight times the amount of waste as standard ones.
North Lincolnshire Council said it hoped to recoup the cost of the bins within two years by having to spend less on street cleaning.
The Irish firm which makes the "Big Belly" bins has said they could reduce waste collection costs by 70%.
Other UK towns and cities, including Edinburgh, Glasgow, Inverness and Bournemouth, already use the bins on their streets.
Liz Redfern, leader of North Lincolnshire Council, said: "The recent Mary Portas review of the UK's high streets showed that councils should work more closely with retailers to make town centres more attractive places to shop.
"The standard street bins would usually have to be emptied every day and at busy times they could be overflowing, but the Big Belly bins will only need emptying once a week.
"This is one of a number of initiatives that the council plans to do in the town centre over the coming months."
Last year the council agreed to shed 550 posts from its 7,000-strong workforce over the next four years as part of a move to save £15m.