Immingham Resource Centre closure protest held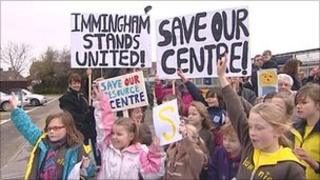 A protest has taken place against plans to close a community centre in a Lincolnshire town.
Immingham Resource Centre, which is used by groups such as football teams, Brownies and Guides, is due to close by April due to council funding cuts.
Protesters said the closure of the centre would be a "massive loss".
But North East Lincolnshire Council said the centre was losing money and all users would be found alternative sites to continue their activities.
Protester Mark Lait said Immingham could not afford to lose the resource centre.
"There are a lot of community clubs down there every night," he said.
"You would have to go into Grimsby or somewhere like that to do your activities if it closes.
"Immingham is one of the biggest ports in Europe, but we are battling for a little bit of space."
Mr Lait said he hoped the council would meet users of the centre to discuss alternatives to the planned closure.
Council leader Chris Shaw said: "The centre is losing money and we can't carry on running loss-making facilities when we are the worst-hit unitary authority in the country.
"We have made a commitment that every user of the resource centre will be found accommodation elsewhere and it won't close until everybody has been found somewhere to go."