MP Austin Mitchell backs Adam Vincent compensation appeal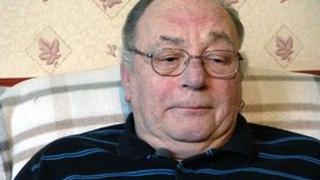 Grimsby MP Austin Mitchell is backing an appeal by Keith Vincent after he was refused criminal compensation following the murder of his son.
Adam Vincent's body parts were found in waterways across north Lincolnshire last year.
The Criminal Injuries Compensation Authority (CICA) told Mr Vincent he would not receive money because of his son's previous drugs conviction.
The MP said Mr Vincent should "receive some compensation".
Mr Vincent's initial application to CICA was rejected while the trial was running and before the jury had returned a verdict.
He had hoped he would get compensation to pay for Adam's burial. But said he was applying more out of "principle" and "not for the money".
"Why should I be punished for what they [killers] have done? I didn't ask to be a victim but I am for what they've done and there's no compensation for this.
"It is just wrong, not just for me but for future families and those in the past. Families should never be punished.
'Some compensation'
"Yes [Adam] did break the law and he did spend time in prison but once you've done your time in prison, the slate's supposed to be wiped clean and it hasn't."
Mr Mitchell said: "He's had to sit through a horrendous series of court hearings and he should receive some compensation, even if it's slightly reduced because of his son's criminal record, which has nothing to do with him.
"It was rejected at a lower level... but the regulations don't say that appeals have to be rejected on that basis, they say it can be reduced on that basis.
"So I'm encouraging Mr Vincent to re-apply and I shall support that application on the grounds that this is a horrendous crime, for which he's suffered quite disproportionately."
A CICA spokesperson said: "The scheme requires us to take account of any unspent criminal convictions a victim may have when deciding whether to award compensation, including cases where the victim has died.
"The more recent and serious the offences were the more we will take them into account."
Mr Vincent said he would like to see a change in the law for some victims of crime applying for compensation, but not all.
Lee Griffiths, 43, his sons, Luke, 19, and Thomas, 22, and Mark Jackson, 27, all of Scartho, Grimsby, were convicted of Adam Vincent's murder at Sheffield Crown Court last week. They were jailed for life.