Pontoon gates honour for late Grimsby fans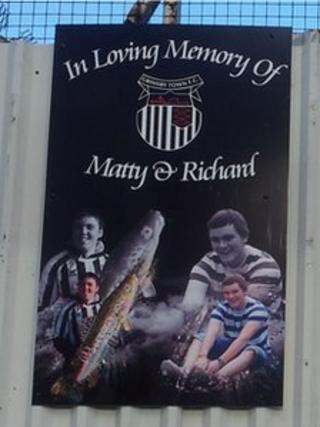 Two young Grimsby Town fans who died last year have been honoured at the club's ground.
The Pontoon gates at Blundell Park have been dedicated to Matty Dawson, from Louth, and Richard Broadley, from Grimsby, both 20, who died of cancer.
Mariners fans raised £220 after the club auctioned off the chance to dedicate the gates. The club donated the money to a local cancer charity.
Mr Dawson's mother said her son would have been "bowled over" by the gesture.
A plaque with the men's names and faces has been put on to the gates, which were unveiled before Saturday's match against Telford.
Mr Dawson went through periods of aggressive chemotherapy after he was diagnosed with the childhood cancer rhabdomyosarcoma in 2008. He died in August.
'True fan'
Mr Broadley, who was a trumpeter in the Grimsby Town Band, died in October just two days after being diagnosed with leukaemia.
Mr Dawson's mother Dorothy said the club had been "really kind and considerate" when they heard about his illness, inviting him to the ground and arranging for players to visit him in hospital.
She said the generosity of the fans who raised money to name the gates after her son and Mr Broadley was "phenomenal".
"Matt would have been absolutely bowled over," she said.
"We really are overwhelmed with it.
"He was passionate about many things but Grimsby Town kept him going. He was a real true fan."