Meeting aims to resolve fate of Immingham community centre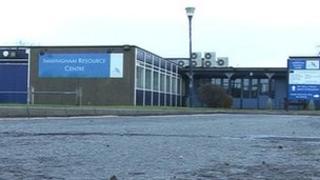 Groups opposed to the closure of a community centre in Lincolnshire hope a public meeting later will help safeguard its future.
North East Lincolnshire Council announced the closure of Immingham's Resource Centre last year.
It was due to close at the end of March, but the council said they will now look again at that decision.
The planned closure sparked a protest campaign. One firm said the uncertainty was "starting to hurt very much".
The council is faced with making savings of £43m over the next four years, after a reduction of 8.9% in its central government funding.
The building is used by groups such as football teams, Brownies and Guides, as well as providing training courses run by Grimsby College and office space for community businesses.
One organisation that rents space in the building is the Community Economic Regeneration Team (CERT), a not-for-profit company that supports people starting up their own social businesses.
CERT's director, Neil King, said uncertainty over the centre's future was affecting his business.
"It's starting to hurt very much," he said.
"Our customers are looking at the closure of the resource centre as the closure of our business. Because we plan six months and yearly in cycles clearly it is having a huge effect on us."
The leader of North East Lincolnshire Council, Chris Shaw, said the authority was launching a review of the decision to close the building.
He said said one option was the local community taking over the running of the centre.
"I am quite happy to keep the centre open. I'm not interested in it making a profit. I'm interested in it breaking even so it is not a drain on council resources in other parts of the borough," said Mr Shaw
"What we need to do is make sure that what is left in Immingham is viable, so that we are not revisiting it again in a couple of years' time."