Hull and East Yorkshire councils review recycling plans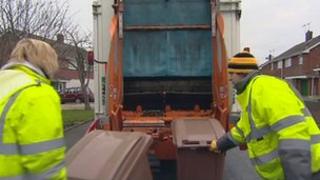 A public consultation on recycling has been started in Hull and East Yorkshire as efforts are stepped up to cut the amount of waste sent to landfill.
East Riding of Yorkshire and Hull City councils are looking at ways waste can be jointly managed.
The two authorities want householders and businesses to recycle up to 65% of all waste by 2020.
About 128,000 tonnes of waste was recycled last year, an increase of 58% from 2006.
Councillor Stephen Brady, leader of Hull City Council, said: "Over the last five years, we have significantly cut the level of waste sent to landfill and notably increased the amount sent for recycling and composting.
"None of this would have been possible without the support and commitment of residents and businesses across our two authorities.
"We are now looking at fresh thinking and new approaches to prevent and reduce waste."
A combined total of about £40m is spent in total by the councils each year to manage the waste collected across the area.
The cost of landfill tax is set to rise from £56 to £80 a tonne by 2014.
Residents and businesses have until 6 April to express their views.