Hull hospital remembers 1927 train crash victims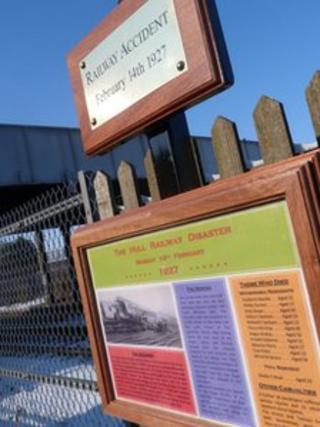 A plaque has been unveiled outside Hull Royal Infirmary in memory of the victims of the city's worst train crash.
The plaque replaced one that was stolen from the site several years ago.
The railway crash took place on 14 February 1927, behind the site where the hospital currently stands.
Twelve passengers were killed and 46 were injured when two trains travelling in opposite directions on the same track collided.
The casualties included several school children.
An inquiry into the disaster concluded "human error" had caused the two trains to be on the same stretch of the railway line.
Phil Morley, the chief executive of Hull and East Yorkshire Hospitals NHS Trust, said: "This was a terrible incident in Hull's history.
"It is really important that we remember events such as this where people lost their lives in avoidable circumstances.
"I would like to pay tribute to Mike Pearson, our archivist for his tireless efforts in ensuring our trust continues to stay in touch with its roots and in helping the community to remember those we lost in the past."