Waste firm City Plant Limited ordered to move rubbish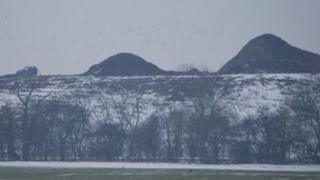 A company in East Yorkshire has been told it has to move 70,000 cubic metres of rubbish from areas of a waste site.
City Plant Limited has to reduce the levels of waste after the Environment Agency served a notice warning that its levels ran outside its permit.
The site in Newport, near Gilberdyke, had grown to more than double its permitted height of 14m (46ft).
The Environment Agency said in a statement that the company had agreed to move the waste.
No-one from City Plant was available to comment.
'Horrendous smell'
The Environment Agency said it withdrew the original notice it served which stopped the company taking in any more waste.
A revised notice has now been issued stipulating that the company can now accept waste but must reduce the height of the landfill in certain areas, moving it to other available areas on the site.
Regulatory officer Leigh Sayers said: "We are pleased that City Plant Ltd has responded promptly to our enforcement action and come up with a viable solution.
"The notice has served its purpose and as a result the company will no longer be prevented from taking in waste.
"It is important that we control the amount of waste at the site and we will be making sure that City Plant Ltd puts its plan in place and complies with its permit.
"Our action has delivered a positive result which could see the site filled earlier than anticipated."
Previously residents in the area raised issues over the site, complaining that the landfill had affected their health and smelled "horrendous".
The Environment Agency said City Plant Ltd has two months to appeal against the revised notice.