Scunthorpe school honours former pupils killed in Afghanistan and Iraq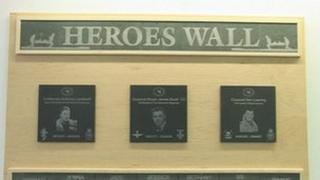 A secondary school in Scunthorpe has honoured local soldiers killed in recent conflicts.
The Heroes Wall at Melior Community College pays tribute to Corporal Bryan Budd VC, Craftsman Anthony Lombardi and Corporal Ben Leaning.
All three men, who were killed in Iraq and Afghanistan, had attended the college or its predecessor schools.
The wall was created as part of an appeal to raise £10,000 for the Help the Heroes charity.
Staff and pupils at the school purchased slate tiles with their names on to raise funds.
Above those tiles are commemorative plaques to the three fallen soldiers.
The mother of Craftsman Lombardi, who was killed in 2009 at the age of 21 when his Spartan light tank was caught in an explosion in Babaji, Helmand province, said she was very proud of what the college had done.
Helen Lombardi said: "As long as the school is open we know that all the pupils passing through will hear of them and honour what they gave, what they were doing and what they did best - being part of the British Army."
Corporal Bryan Budd died aged 29 as a result of injuries sustained during a fire fight with Taliban forces in Sangin, Helmand province, in 2006.
He was posthumously awarded the Victoria Cross.
Corporal Ben Leaning, 24, was killed when his vehicle hit an improvised explosive device in Maysan Province, Iraq, in 2007.