Flood protection spending doubles in East Yorkshire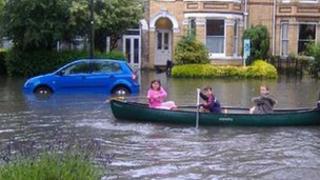 The amount of money spent on flood defences in East Yorkshire will more than double next year.
Figures from the Environment Agency show a rise from £4m this financial year to £8.6m for 2012/13.
The agency said that after the works programme was completed "over 38,000 households in East Yorkshire will be better protected from flooding".
A committee of MPs recently criticised the government's decision to cut the flood defence budget by 8%.
The Public Accounts Committee (PAC) said there was a great deal of uncertainty about whether there was enough money to improve flood defences and protection in the long-term, and who paid for it.
The chair of the committee, Labour MP Margaret Hodge said: "There is a big mismatch between what the Environment Agency reckons it needs to maintain current levels of flood protection and the budget being made available."
The Department for Environment, Food and Rural Affairs (Defra) said it would spend an average of £540m a year on flooding defences in England over the next four years, a cut of 8% from the average spent in the previous four years.
The government recently changed the system for funding flood defences, with increased investment required from local councils and the private sector.
The schemes in East Yorkshire will receive £1.3m of funding from local councils.
Projects funded this year include £415,000 towards improvements to Hull's flood defences along the River Humber, which will cost £5m in total when completed.
Another £500,000 is being spent on assessing the best way to protect homes on a housing estate in north Hull.
Hull and the surrounding area was badly affected by flooding in summer 2007.