Eating disorder facility to open in North East Lincolnshire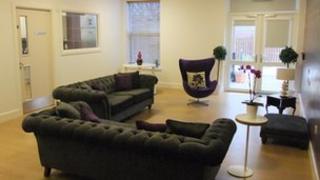 An eating disorder clinic to treat conditions such as anorexia and bulimia is opening officially in North East Lincolnshire.
The five-bed facility offers specialist out-patient, in-patient, home and day services to adults and teenagers.
The centre, which is based at The Diana Princess of Wales Hospital in Grimsby, has been funded by a not-for-profit organisation.
Operators NAViGO have described it as a "first of its kind" in the region.
The service can be accessed via the NHS.
Amanda Hind, eating disorders manager for NAViGO, said: "Sadly, eating disorders are becoming more and more common and as such we recognised that we needed to change and adapt our service to reflect this.
"The opening of Rharian Fields is a big step forward for mental health services in North East Lincolnshire.
"Local people will no longer need to travel over 100 miles to receive the vital treatment they need to address their eating disorders."