Seizures claim made over stop smoking drug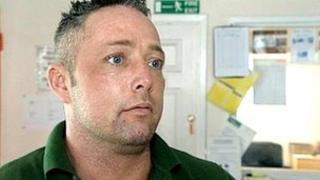 An East Yorkshire man has claimed a drug designed to help smokers quit caused his seizures.
Lee Margeson, from Keyingham, claimed he developed the problem after taking the drug Champix known as varenicline.
The drug which accounted for nearly a million prescriptions in 2010 lists side effects such as depression and rashes but not seizures.
Manufacturer's Pfizer said there was "no reliable scientific evidence" to show varenicline caused fits.
Mr Margeson, a driver in Hull, was initially told by the DVLA that the seizures would stop him driving.
"I kept on fighting and fighting and eventually the DVLA made the decision [to let me drive]," Mr Margeson said.
His neurologist, consultant Fayyaz Ahmed at Hull Royal Infirmary, said he regarded the "seizures as provoked and possibly due to Champix, although a definite causation cannot be made".
'No causal relationship'
The possible side effects listed on the packet include headaches, difficulty sleeping, depression, rashes, disturbed vision and an irritated stomach.
Mr Margerson said he wanted the company to acknowledge that seizures could be a possible side effect and alter the instruction leaflet issued with the drug accordingly.
In response to the claims, Pfizer said: "There has been no causal relationship established between seizures and treatment with varenicline. Pfizer takes the safety of all of its medicines seriously.
"There is no reliable scientific evidence to demonstrate that varenicline causes these events."
In 2011, research by the Canadian Medical Association said Champix increases the risk of heart attacks and other serious cardiovascular problems.
However, the European Medicines Agency said that the benefits of the medicine outweighed the risks.