Rapist banned from outings after Hull cinema toilet voyeurism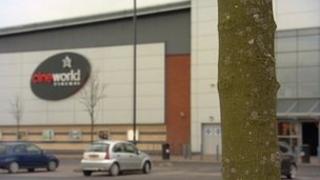 A convicted rapist has been barred from going out in public after he spied on a girl in a Hull cinema toilet while on an escorted trip from a secure unit.
Steveland Kirk Robinson, 25, previously admitted voyeurism at Hull Crown Court.
At the time of the offence he was being held under an indefinite hospital order at the Humber Centre, near Hull.
The court heard he was escorted to Cineworld in Hull but was allowed to go to the toilets alone. He was given a 12-month conditional discharge.
Judge Mettyear said he was satisfied with the restrictions placed on Robinson since he was moved from the Humber Centre to Stockton Hall in North Yorkshire.
Robinson will remain at the secure unit until the Home Office approves his release.
'Distressing incident'
The judge said: "What I was really concerned with in this case was the circumstances that this occurred in. I really wanted to know whether there were in place ways of reducing risk and whether those had been reviewed as a result of this case."
A letter from Dr Caroline Bradley, consultant forensic psychiatrist at Stockton Hall, was read out in court and outlined the restrictions placed on Robinson.
It said: "Mr Robinson currently has no access to the community either escorted or un-escorted.
"I would not expect this situation to change until there is a significant reduction in his risk to the public.
"I would expect that access to the community in the future will only begin after a period of relaxation in the facility."
The judge said: "That stalls the fears that I have and I am very pleased."
In a statement the Humber NHS Foundation Trust said it "would like to express their apologies to the victim of this distressing incident".
The trust said an internal investigation had taken place and all actions that arose from this had been implemented.
It also said that "leave is an important part of a patient's treatment and rehabilitation".