Flood-tackling schemes in East Yorkshire boosted by £2m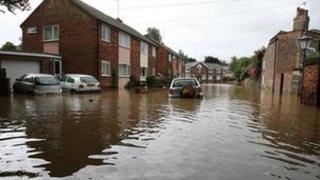 A council is to spend £2m on schemes to cut the damage done by flood waters in communities.
East Riding of Yorkshire Council members have approved the cash to provide "flood mitigation" schemes at 60 sites.
The projects will also be boosted by £500,000 raised by various communities.
The authority said it had highlighted areas in need of help after the severe summer flooding in 2007.
A spokesman said many of the schemes would benefit smaller communities not eligible for national funding assistance.
Councillor Symon Fraser, responsible for environment, housing and planning, said: "The council has been closely involved with partners in many larger flood management schemes but these in the main are targeted at bigger centres of population and have more chance of attracting national funding help.
"However, local flood mitigation work is also very important in the East Riding where many communities at risk live in small settlements which do not meet the criteria for national funding that is targeted at the urban and more densely populated areas.
"We have worked very closely with local people, bringing together their own invaluable knowledge and the council's expertise, to ensure that the flood mitigation work proposed is effective in helping build more resilient communities."