Plan for civilian blitz memorial in Hull city centre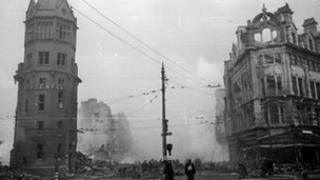 Two historians have launched a campaign to build a memorial to people killed in bombing raids on Hull.
During World War II, Hull was the second most bombed city in England, with 90% of its buildings damaged.
The preferred site is the city's Queen Victoria Square, which saw many buildings destroyed in a heavy raid in May 1941.
The group is hoping to unveil it in 2014, to mark the 75th anniversary of the start of the war.
The project leader Alan Brigham said that the memorial would list the names of more than 1,000 people who died.
"There's everything from babies to elderly people," he said.
"They had mothers, fathers, they had brothers, sisters. Really they ought to be recognised. We ought to know who they are."
Hull currently has a memorial in the city's Northern Cemetery, built on the site of a mass grave of 327 people who died in the raids.
Another group is campaigning for the derelict remains of a bombed cinema to be converted into a national Blitz museum.
A charity has been set up to appeal for funds to build the new memorial.
The other historian behind the scheme, Charles Dinsdale, said: "We want it to be paid for by the people of Hull, to be designed by the people of Hull, to be made in Hull and to be looked after by the people of Hull in the future."