Hull drain cleaned up to reduce flood risk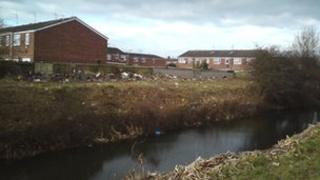 A 400m-long drain in Hull is being cleared to help reduce the risk of flooding in the city.
Work has started to clear rubbish and vegetation from a section of the Beverley and Barmston Drain.
The Environment Agency (EA) said the drain contained overgrown vegetation and had been subjected to fly-tipping in recent months.
The EA said it expected the work, which is costing £20,000, to be complete within five weeks.
Overgrown willow trees and shrubbery are being cut back on the meanders and the bank sides, downstream of Beckside Close.
The EA constructed a number of meanders along the drain during the 1990s to attract wildlife to the area and increase the capacity of the drain, reducing flood risk to properties.
It also installed pegs to encourage anglers to fish the drain.
Nicholas Appleyard, from the EA, said: "We currently use weed cutting machines on the drain and cut the grass on the bank sides as part of our annual flood defence maintenance programme.
"But sometimes more work needs to be done to cut back trees that overhang the watercourses which could cause an obstruction to flow. There is also a major issue with debris dumped in the drain and on the banks. This costs thousands of pounds each year to remove."
There are also plans to create a footpath and nature trail along a stretch of the embankment.