Hull Royal Infirmary given £8m for renovation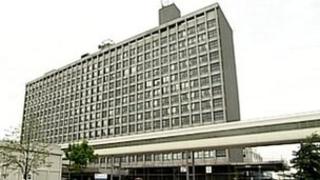 Hull Royal Infirmary is to be given an £8m facelift, after government funding was given to the NHS in the city.
The 13-storey building on Anlaby Road has been given the money to install new windows and resurface exterior walls.
The Hull and East Yorkshire NHS Trust said the much-needed improvements would raise confidence in its service.
It is expected that renovation work will start in the autumn, and be completed by 2014.
Yvette Oade, chief medical officer for the trust, said: "Hull Royal Infirmary is an iconic building in this city and for too long its external appearance has contrasted unfairly with the high standards of care provided within.
"People want to know they are going to be seen and treated in state-of-the-art facilities.
"While the interior has seen lots of modernisation work it is badly let down by the outside of the building and this can affect people's perceptions of the care they are going to receive."
Last year, the hospital started a £7m refurbishment of its accident and emergency department to double its current size, which is expected to be fully complete by next year.