Tesco supermarket 'hurting Hornsea business'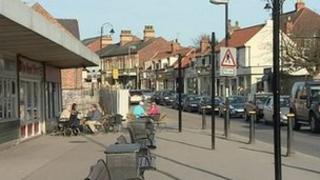 A trader in a small East Yorkshire town says its new Tesco store may put him out of business.
The supermarket giant opened a store in Hornsea in January.
Since then Alvin Wilkinson said his takings had reduced by up to £1,500 a week and the High Street had become "unbelievably quiet".
Tesco said it had received positive feedback from people in Hornsea and there was evidence to show supermarkets increased footfall in towns.
The new Tesco store is the first of its size in the seaside resort.
Mr Wilkinson, who runs a convenience store in the town centre, said: "The takings have gone down by £1,000 to £1,500 a week. It used to be a really vibrant street at one time. I have been here 20 years and I have never known it so bad as it is at the moment.
"I am trying to think of things that Tesco don't sell. But there's retailer down the street said to me 'you could have things at 10p but if you haven't got the people in to buy them you won't sell it'."
'Tough to compete'
Mr Wilkinson said if things did not improve it might be "curtains" for his business.
He said: "Sometimes later in the afternoon I can look down the street and there's not even a vehicle, there's nobody walking."
James Loman, from the Association of Convenience Stores, said: "Not withstanding the fact that it's tough to compete with [supermarkets'] power I just think bringing the whole high street under one roof is bound to damage the traditional high street that's there."
A Tesco spokesman said feedback from customers in Hornsea had been "overwhelmingly positive".
It added: "Planning policy points supermarkets to find sites as close as possible to the town centre and there is significant evidence that supermarkets bring footfall that other businesses can benefit from."