Hull bid for more train services fails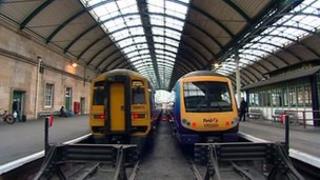 A bid to secure more train services for Hull has failed.
From May 2014, First TransPennine Express will increase the number of train services between Manchester and Leeds from four to five an hour.
Councils lobbied for the extra service also to run to Hull, but a provisional timetable shows it will run to York instead.
First TransPennine Express said there was more customer demand in York, but it was still discussing the details.
Matthew Hay, from First TransPennine Express, said: "The timetable at the moment is provisional and it's out for consultation.
"We're discussing the details with that with key people such as Hull City Council."
He said the company was looking to provide a "20% improvement" in train services between Hull and Leeds during morning peak times.
Rail Development Humber (RDH), a strategic planning body for the region's network, said it was "disappointed", adding that "a massive number" of passengers in Hull and the East Riding would lose out.
In a statement, East Riding of Yorkshire Council said: "This matter is still at the consultation stage, which runs until Thursday 29 March, through Network Rail.
"Both East Riding and Hull City Council remain in dialogue with the other organisations and agencies involved in the discussions and no final outcome has yet been confirmed."