Princess Elizabeth doll auctioned in East Yorkshire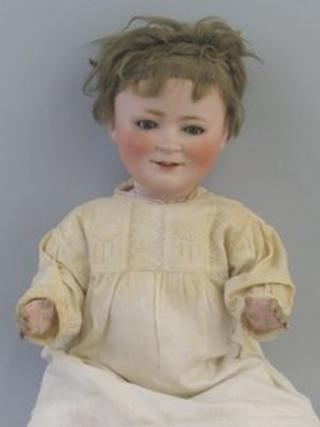 A rare doll modelled on the Queen in 1929 when she was aged three has been sold for £320 at an auction.
The 23in (58cm) Princess Elizabeth doll is porcelain and made by German company Schoenau and Hoffmeister.
Buckingham Palace refused to endorse the design because it looked "too chubby", so only a few were produced.
Auctioneers Dee Atkinson & Harrison said the doll was sold to a local woman at an auction in Driffield, East Yorkshire.
Valuer Graham Paddison said: "It is extremely rare, the first that we have ever seen.
"When manufacturers were planning to introduce a new doll they quite often produced just a few to test market reaction before putting it into mass production.
"The Princess Elizabeth doll never got beyond the trial stage, so just a handful were ever made.
"Despite the pre-war Royal Family's distinct lack of enthusiasm about the Princess Elizabeth doll, there could hardly be a better time to sell one than the Queen's Diamond Jubilee year."
The doll's 75-year-old owner, Carol Regan, a retired landlady from Bridlington, said she had been given it as present about 70 years ago.
"I didn't like it," she said.
"I wasn't a dolly person so it didn't get played with a lot except by the girl next door.
"I didn't think of getting rid of it because it's Princess Elizabeth and it's porcelain so it's breakable. But I just want to have a clear-out now."