Flood defence maintenance plans 'could devalue Gowdall homes'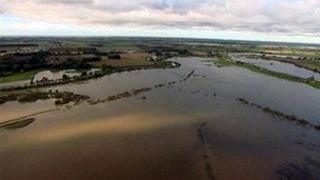 Homes in an East Yorkshire village could be devalued if maintenance of flood defences is scaled back, residents fear.
The Environment Agency is reviewing itsmaintenance plansfor a stretch of the River Aire, including a bank that protects Gowdall.
It is proposing to stop maintaining the Gowdall Ings site - one of two river defences near the village.
A budget squeeze made it unviable to maintain some defences, it said.
However, the agency said it would look at other options, including whether local people could take over the running of defences themselves.
The plans for Gowdall are part of a wider review of flood defence sites in areas along the river including Goole, Castleford and Knottingley.
In Gowdall in 2000, almost 150 homes in the village flooded.
Resident Laurie Stewart had to live in a caravan for nearly a year.
'Maximum protection'
He said he was worried that properties in Gowdall would drop in value and homeowners would struggle to get insurance if the flood banks were not maintained.
"The less the village is protected the more chance we have of flooding," said Mr Stewart.
"Anything we can do to turn that back in my opinion is worthwhile. We need to give ourselves maximum protection and get the maximum help that we can and if that means physically manning the dykes, then we will."
In a public document, the agency said it wanted to determine whether property or landowners were willing to take over the maintenance themselves.
It said it was national policy to withdraw from defences where the cost of maintaining them was greater than the benefits.
Spokesman Joe Noake said: "Every pound we spend needs to be very carefully considered. We're in a very tight financial situation for the whole of the country."