Stabbed Hull man brings ring to court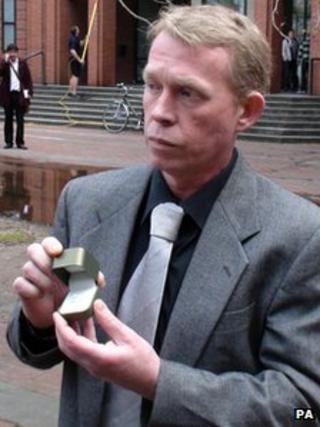 A Hull man who was stabbed by his partner has tried to propose to her in court just after she was jailed for three years for the attack.
Tiffany Baillie, 32, plunged a kitchen knife into Gregory Todd's back at their flat in Hessle, East Yorkshire, in December, Hull Crown Court heard.
She admitted causing grievous bodily harm with intent at a previous hearing.
Chef Mr Todd, 48, brought an engagement ring to court on Wednesday in the hope Baillie would walk free.
Outside the courtroom, Mr Todd said he accepted the judge had to send Baillie to prison and praised him for his leniency.
He said he was not allowed to go down into the cells at Hull Crown Court to show her the ring.
But he said his barrister took it to Baillie and he was relieved to be told that it fitted her.
The jury was told how Mr Todd suffered serious injuries, including damage to his colon, a kidney and his pancreas, after Baillie plunged a kitchen knife into his back, probably while he was asleep on a bed.
The pair had returned home from a night out drinking.
Mr Todd's life was saved by emergency surgery and he spent three months in hospital after the attack.
Judge Michael Mettyear said he was giving Baillie more credit than normal owing to Mr Todd's total forgiveness.
He said to Baillie: "Your victim has completely forgiven you.
"He has visited you in prison and has written to me stating in detail his view of you and what should happen to you."
Mr Todd said he was hoping Baillie would be out in little more than a year and that he would see her in prison as often as possible.
"It was totally out of character and I don't know what else to do," he said.
"I just want to be with Tiffany. That's all I can say."