Concern over cuts to Hull sheltered housing warden service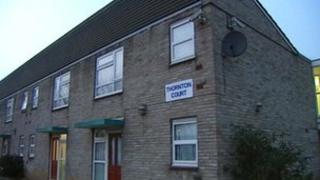 A union representative has said elderly people's lives could be put at risk due to cuts in warden services at sheltered housing in Hull.
Hull City Council is cutting six live-in wardens "due to less funding being made available to local authorities".
The council said it would provide mobile wardens and a remote alarm system for vulnerable residents.
Neil Ware, of the GMB union at the council, said the decision could mean "people's lives could be put at risk".
The number of wardens in the city will be reduced from 32 to 26.
Mr Ware said the cuts not only affected the wardens' jobs.
"Three of these people actually live on these schemes," he said. "So it's a double whammy for them. It's not just a job, it's the house as well."
The council's head of physical regeneration, Laura Carr, said the changes were necessary due to funding cuts.
She said the council would expand its Lifeline service, which provides an emergency call-out system triggered by a remote control alarm.
Ms Carr said: "The service, as it's being redesigned, will still provide a visiting service for wardens.
"The Lifeline service, which is the thing that residents have told us they most value, will be completely protected and still be available 24/7.
"Nobody wants to see cuts to services, but it is about making sure we can provide a safe and as risk-free service as possible."
She also said that the council would work with affected wardens who live on the site to look for alternative accommodation.