Hornsea residents support Floral Hall takeover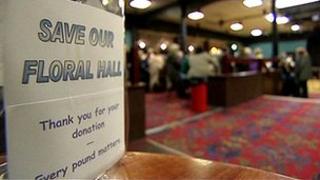 An East Yorkshire seaside resort could be transformed if a 99-year-old hall is saved, local campaigners have said.
About 200 people attended a meeting on Tuesday to support the Hornsea Floral Hall campaign.
East Riding of Yorkshire Council, which wanted to demolish the hall, has given residents until August to come up with a plan.
Ron Bee, chairman of the campaign, said it could take years to turn it around, but it was important for the community.
Mr Bee, who admitted the entertainment venue was a "difficult building", said: "The Floral Hall drives the economy of the northern promenade in Hornsea.
"With the revitalisation of the Floral Hall comes the revitalisation of town."
Facebook campaign
The Floral Hall was going to be demolished under council plans and turned into a car park at a cost of £1.2m.
But following objections, the plans were rejected and residents were given time to come up with a plan for turning it into a community-led trust.
Keith Twigg, a member of the Floral Hall Steering Group, said 105 of the 200 people who attended the meeting had volunteered their time and expertise.
"It cheered us, we know it's not easy but the support was certainly there," he said.
"We daren't fail - it's a long term thing and we need the continued support of the town and the people."
Resident Emma D'Arcy said the campaign had pulled together different generations who had volunteered to save the hall.
"The younger population have galvanised and are getting the momentum going," she said.
"There are 1,000 people on the Save Floral Hall Facebook site. It's affectionately known as a shed - it is a little bit tatty and it needs a bit of TLC but beauty is on the inside.
"It has a lot to hold for our children and every generation in Hornsea really wants this building to be brought back to life."