Bradley Parkin: Mother's complaint to be investigated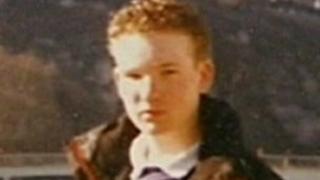 A complaint made by a mother 11 years after her teenage son was found hanged at a school is to be investigated.
Bradley Parkin, 17, was found hanging behind the stage area by a staff member at Lindsey Upper School in Cleethorpes, North East Lincolnshire, in 2000.
His mother, Shanie Parkin, claimed Humberside Police did not conduct a thorough investigation into his death.
The force were told to investigate the complaint by the Independent Police Complaints Commission (IPCC).
Mrs Parkin said: "I'm relieved. It's been so long, over 12 years, for a mother to fight alone.
"There should have been a Serious Independent Case Review but there wasn't. In the major crime investigation review that was held in 2006, on page 22, it specifically states that. I didn't gain access to those papers until middle of 2010."
In a statement, a spokesman from the IPCC said: "The IPCC received an application from Humberside Police asking for permission to dispense with Mrs Parkin's complaint. We considered this and decided to reject the application.
Two inquests
"Humberside Police are now required to deal with Mrs Parkin's complaint."
Humberside Police told the BBC that it would carry out an investigation into the complaint, but it would not lead to a fresh investigation into Bradley's death.
Two separate inquests were held into Bradley's death, the first in 2000 and the second in 2008, both recorded an open verdict.
Bradley's body was found by a school caretaker shortly before a parents' evening in February 2000.
The teenager was described as a talented actor and was studying for A-levels in drama and performing arts.