Immingham sports centre closure 'could worsen obesity'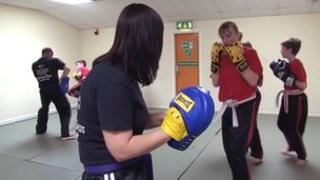 Campaigners trying to save a sports centre from demolition fear its closure could lead to obesity problems in the area.
North East Lincolnshire Council said it could not afford the service and has backed plans to demolish the building in Immingham to build a supermarket.
Residents now want to take over the running of the centre themselves.
Figures show higher than average rates of obesity in the area compared to the rest of the country.
According to the National Obesity Observatory (NOO), 29.3% of adults in the area are obese, which is higher than the English average of 24.2%.
Figures also show 10.7% of children aged between four and five in North East Lincolnshire are obese compared to the 9.4% average in England.
Facility 'well used'
Mark Lait, manager of a children's football club in the area, said: "If it goes there's nowhere else for sports groups and people to go and this could lead to anti-social behaviour and obesity problems.
"I don't get how they can close these facilities down."
Campaigner Chris Charlton said: "The facility is still being used. There's about 350 people who use it each week. They shouldn't be closing a facility that's helping to combat obesity problems.
"We're in an Olympic year and they're going on about leaving a sporting legacy. If the centre closes we won't have this legacy here."
The residents are now campaigning to run the centre.
Then council said the decision to demolish the centre came after it carried out an "extensive consultation with users" as part of its review into leisure services.
Councillor David Watson said: "The authority's got to save £30,000 a day.
"It's just simple figures that there's not the money to run it when other services are available in the town."