Hull man jailed for leaving car on railway in police pursuit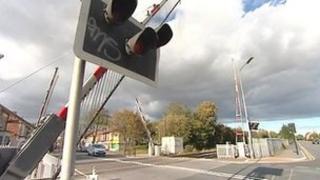 A man who left his car on a railway track as a train approached during a high-speed police pursuit has been jailed for 12 months.
Gavin Steed drove at more than twice the speed limit before he left the car on a level crossing in Hull.
The passenger train, which was half a mile away, stopped after a police helicopter alerted the driver.
At the city's crown court, Judge James Sampson said Steed, of Sefton Street, Hull, had driven "dreadfully".
The court was told the pursuit began in west Hull on 3 October when Steed realised a police car was behind him and "panicked" because he had drugs in his Ford Mondeo.
He threw packages of heroin from the car as he drove at speeds of more than 60mph in 30mph zones, before driving on to the railway track at a level crossing in Hawthorne Avenue and becoming stuck.
Jane Bryan, prosecuting, said: "The helicopter pilot Kathryn Chapman made the decision to try to intercept the train and alert the driver to the danger."
Miss Bryan said the pilot positioned the helicopter ahead of the train and flashed her lights. Another crew member made hand signals telling the train to stop.
The court heard the incident caused 119 minutes worth of delays, involving 12 trains, and costing rail firms £1,210.
'Oblivious to danger'
Richard Thompson, mitigating, said Steed "admitted his driving left a lot to be desired".
He said the danger to train passengers was "theoretical", as the driver would not have been allowed to pass through the level crossing when it was not clear.
Judge Sampson said: "You were driving at speeds in excess of 60mph in a 30mph zone. You drove on the wrong side of the road, you failed to stop at junctions, you threw drugs out of your car, you were driving through residential areas, through shopping areas.
"You were oblivious to the obvious dangers. It's fortunate and perhaps surprising, given the dreadful nature of your driving, that no members of the public were in fact injured."
Steed was handed concurrent sentences of 12 months for dangerous driving, 12 months for endangering the safety of railway passengers and three months for the possession of a class A drug.
He pleaded guilty to all charges last month.