Prisoner sought after Scunthorpe post office robbery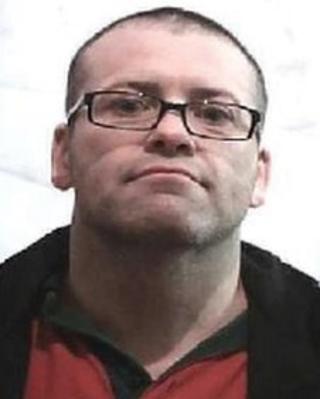 Police are searching for an absconded prisoner after a robbery at a Scunthorpe post office.
Humberside Police said they want to speak to Eithan Teanby, 40, who was on a weekend release from HMP North Sea Camp in Boston, Lincolnshire.
The robbery took place at East Common Lane Post Office, Scunthorpe on 21 May.
Police said two staff members, a man and a woman in their 60s, suffered serious injuries after being hit with a weapon during the raid.
The Prison Service said Teanby was in prison after being sentenced to 10 years and 8 months for robbery, GBH and assault. He was nearing the end of his sentence.
'Growing concerned'
A Prison Service spokesperson said: "Prisoners may be released on temporary licence providing they meet strict criteria and pass a rigorous risk assessment.
"If prisoners breach their licence in any way, they will be subject to disciplinary proceedings."
Det Insp John Symes said: "We are growing concerned as it appears Mr Teanby has not been seen or heard from by family members and has now seemingly absconded from HMP North Sea Camp after failing to return to prison following a weekend release.
"My understanding is that Mr Teanby is currently taking prescription medication and we have concerns that he may not have access to his required dosage.
"We are keen to locate Mr Teanby who is currently unlawfully at large as not only should he be returned to prison but he may also be able to assist us with our ongoing investigation into the robbery at the Post Office on East Common Lane in Scunthorpe."
Humberside Police said his details had been circulated across all UK police forces and a number of attempts had been made to locate him in North Lincolnshire and Leicester.
Police have warned members of the public not to approach Teanby.