Caravan tax campaign being 'considered', says minister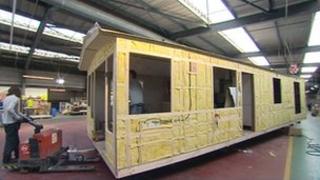 Calls to cancel the planned introduction of VAT on static caravans are being "seriously considered" by the government, a minister has said.
Speaking in the House of Commons, Business Minister Greg Clark said he understood the "importance" of the caravan industry.
Treasury officials estimate the 20% tax on static caravans will raise £45m.
The National Caravan Council (NCC) claimed the tax rise would lead to more than 7,000 job losses in the industry.
Hull North Labour MP Diana Johnson said: "The government has realised it is under pressure, it's taken aback by the strength of feeling from MPs and the industry.
"I hope that they will drop the tax. I think that they failed to consider the job losses that would come out as a result of it. So I'm very pleased they're considering it."
Industry support
Mr Clark offered to visit manufacturers in East Yorkshire.
He said: "My holidays when I was growing up were in a static caravan on the north-east coast. I'm very keen to do what I can."
Ms Johnson said: "I'm pleased that the minister was aware of the issue of the caravan tax and how important the industry is to Hull and the East Riding. So his offer to come and talk to industry and workers is welcoming, I think that's positive."
This week MPs from across the region submitted petitions to Parliament in protest against the tax proposal, which is due to be introduced on 1 October.
Currently, mobile caravans are subject to VAT and static caravans have been exempt since the 1970s, but the chancellor unveiled the new proposal in his Budget in March.