Company to close controversial East Yorkshire waste site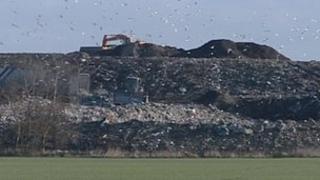 An East Yorkshire rubbish tip that breached height regulations is to close next year, its owners have announced.
The site near Gilberdyke was issued with enforcement notices from the Environment Agency to reduce the size of a waste mound, which reached double its permitted height of 14m (46ft).
The tip's owners, City Plant Ltd, said it intended to shut the facility in November 2013.
Local protesters have called on the site to be closed immediately.
The firm held an open day in the village to explain how it intended to landscape the site once waste disposal ended.
City Plant's Kevin Wanless apologised to residents for the disruption.
"This is our opportunity now to go forward and to explain to people and try to reassure them that the site is actually going to come to completion and to a final restoration phase."
Residents have held protests at the site, which is located next to the M62.
The company has angered locals further by seeking retrospective planning permission to have the permitted waste height raised to its current size.
Mr Wanless claimed the company didn't "intentionally breach conditions".