Free school plan for former Hull FC rugby league ground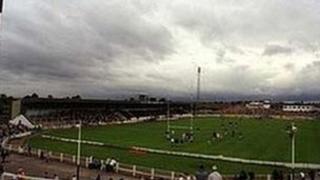 The site of a former rugby stadium is to be transformed into Hull's first free school.
The Boulevard site is to become a 600-student secondary school, which is planned to open in 2013.
The Hull Free School has been approved by the government and will receive a £9.2m grant from the Department for Education to build and equip it.
The project is opposed by a teaching union, which said education should remain in public hands.
Hull City Council approved the transfer of the site's lease over to the new school for a "peppercorn rent".
'Wider choice'
Educational consultant Carol White is one of the people behind the scheme.
She said the school would not select pupils by ability and would provide a "slightly different focus from other schools".
"This is all about giving young people and parents and families a wider choice," she said.
"We are very keen that this particular proposal fits in with the council's overall plans for secondary education in the city."
The school will be offering the English Baccalaureate qualification, which is equivalent to a GCSE grade C or above in English, maths, two sciences, a language, a humanities subject.
Its curriculum will be modelled on the United States Knowledge is Power Programme which is used in a number of schools in disadvantaged areas of the USA.
Mike Whale, from the National Union of Teachers, said: "It's transferring education, which we think should be a public service, into the hands of private individuals."
Free schools were established by the government in 2010. They are independent of local authorities and directly funded by central government.
They have increased control over their curriculum, teachers' pay and conditions, and the length of school terms and days.