Call for road change in Hull after traffic accident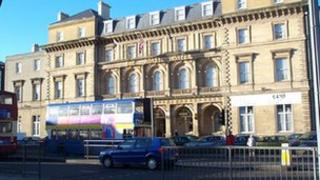 The manager of a Hull shopping centre has called for a major road to be partly pedestrianised.
Jim Harris, manager of the St Stephen's Centre, has suggested the change after a cyclist was injured in an accident with a lorry.
He is calling for vehicles to be routed away from the A1079 Ferensway road, which is one of the main routes through the city centre.
Hull City Council said the idea was not practical.
Mr Harris said over one million visitors used the shopping centre every month.
"If you mix that many people in with cars and HGVs incidents are going to happen," he said.
"There must be a way we can move cars and HGVs around the city, apart from down the middle of what is now one of our main pedestrian thoroughfares."
Mr Harris said there had been a number of accidents over the last few years and claimed that the crossing systems on Ferensway were too small to cope with large numbers of pedestrians.
Graham Hall, Hull City Council's assistant head of service for transport, said: "We do not consider it is practical to pedestrianise any part of Ferensway as it is one of the main routes in and out of the city.
"We are committed to raising awareness of road safety, and in particular for drivers to be mindful of pedestrians and vulnerable road users such as cyclists."