Party honours three Bridlington children killed in a house fire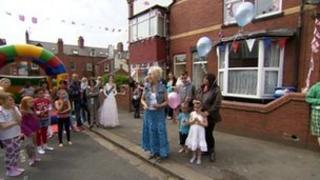 Neighbours at a Jubilee street party have honoured three young children who died in a house fire two years ago.
Maddie Hudson, three, Anthony Hudson, five, and William Beale, nine, died in the fire on Clarence Avenue, Bridlington, in November 2010.
Organisers of the event said it was a chance for residents to remember the children and to say goodbye.
A two-minute silence in memory of the children was held and balloons were released at the start of the party.
The fire broke out shortly before midnight on 11 November 2010.
The children's mother, Samantha Hudson, was left with brain damage following the blaze.
Humberside Fire and Rescue Service said they believed the most likely cause of the fire was a cigarette which had not been fully extinguished.
'Life-changing'
Since the fire the mood on the street has been very sombre, according to one of the organisers of the street party.
Susan Smith said: "It was a life-changing tragedy, a tragedy I wouldn't wish on any community."
Another resident, Lesley Salisbury, said she hoped the event would allow people on the street to move forward.
"There are still a lot of people having counselling, we still talk about it, it is still right at the front of our memories," she said.
Mrs Smith added she hoped the event would allow residents to put the tragedy behind them.
She said: "This party is in the children's memory and to say goodbye to them properly and to show that life does go on."