Ex-PCSO Gary Hastings jailed for child sex offences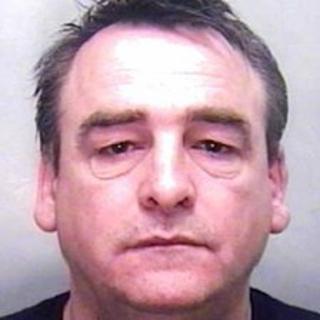 A former police community support officer (PCSO) has been jailed for 10 years for child sex offences.
Gary Hastings, 48, of Wright Street, Hull, pleaded guilty last month at York Crown Court to seven counts of sexual activity with two children.
Judge Stephen Ashurst described him as a "predatory paedophile".
Hastings served as a PCSO in Immingham, North East Lincolnshire and is a former foster carer. He resigned from the Humberside force after being suspended.
The judge said the offences, which took place between November 2007 and August 2010, were "extremely serious" and Hastings had abused two boys who were "plainly vulnerable".
'Embarrassed and ashamed'
The court was told Hastings took his first victim on a trip to Newcastle, where the pair engaged in sexual activity in a flat.
Referring to Hastings' first victim, the judge said: "He was scared and confused. And in his own words... you completely messed up his life.
"It has left him acutely embarrassed and ashamed."
Hastings met his second victim through a gay website. He was studying for his GCSEs and was 15 at the time.
The judge said Hastings had denied he was sexually attracted to the boys, but he said: "The fact they were underage was a factor in your sexual make-up."
In mitigation, Mark McKone said Hastings had "destroyed his life" and as a former PCSO and convicted sex offender he would find prison life "particularly difficult".
Hastings had denied causing or inciting child prostitution or pornography. Those charges were allowed to lie on file.
Humberside Police welcomed the sentence.
Necessary vetting procedures
Supt Ray Higgins, head of the force's professional standards branch, said: "I recognise that Gary Hastings pleaded guilty at a very early stage and so has prevented his victims from being put through the traumatic experience of a lengthy trial.
"Nevertheless, it was his appalling abuse of trust that lead to these young men becoming victims and no doubt their experiences will live with them for the rest of their lives."
Mr Higgins said Hastings worked for the force between 2008 and 2011 and went through the necessary vetting procedures before being appointed.
He was suspended in August 2011 and resigned in January.
Mr Higgins added: "I would like to reassure the public that Humberside Police does not take this sort of criminal activity of our staff lightly and we strive to ensure that any inappropriate behaviour by staff, be it criminal or otherwise, will be dealt with robustly."