Campaigners call to extend free parking in Scunthorpe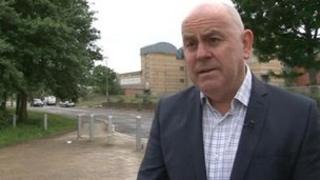 A call has been made for shoppers to be given two hours of free parking in Scunthorpe to boost town centre trade.
Campaigners said there had been a "stampede" of shop closures in the town centre.
With the backing of Scunthorpe MP Nick Dakin, members of Keep Scunthorpe Alive have called for extended free parking in council-run car parks.
North Lincolnshire Council said it was looking at how it could improve prospects for traders.
At present shoppers are allowed to park for an hour free of charge in selected council-run car parks in the town.
Matt Couch, manager of Intersport in Scunthorpe, said the shop was having to shut because it was making a loss.
"The amount of people who come in and say we've got to rush because we've only got an hour on the car is unbelievable, it happens every day.
"If the council could potentially look at giving two hours it would be a great help."
Des Comerford, chairman of Keep Scunthorpe Alive, said: "It's just a stampede of closure and we've got to stop that in its tracks now before it's too late for the town centre and I believe we can do that if we all work together."