Lagoon plan to prevent flooding in East Yorkshire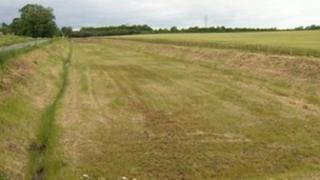 A £16m plan has been launched to prevent flooding in East Yorkshire by trapping rain water in large lagoons.
East Riding of Yorkshire Council and Hull City Council are working on two large flood alleviation schemes on the outskirts of Hull.
A test lagoon has been constructed near Cottingham. If it proves successful two further projects will be developed nearby.
The area was hit by flooding in July 2007.
The lagoons would trap rainwater running towards Hull from the Yorkshire Wolds. The stored water is then gradually released.
A public consultation on a number of potential sites for the new defences has begun.
East Riding of Yorkshire Council said the proposed defences would store enough water to "cope with an event that would happen maybe once in 75 years or more".
Councillor Stephen Parnaby said: "Both councils take flood prevention very seriously and these two schemes would go a long way in reducing the risk of flooding for thousands of properties against the kind of severe rainfall we saw in the summer of 2007."
The council said it would be seeking funding from Europe and central government.