Hull road repairs backlog to cost £126m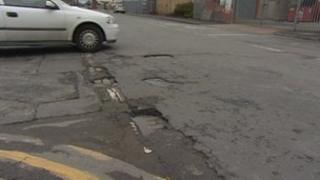 A council report claims repairing damage to roads and pavements in Hull will cost the city £126m.
Hull City Council said there is not enough money in the budget to bring roads and pavements up to standard.
The city said it spends £3m a year repairing damage and that £8.5m a year was needed just to cover deterioration.
Transport Minister Norman Baker said the government had increased the money given to local authorities to make repairs.
Mr Baker said the government had provided Hull with £7.4m over the next four years for road repairs and claimed the backlog was down to years of under funding by previous governments.
'Fritter away'
He said his department had set-up a study to identify "best practice" to help councils make their money go further.
Mr Baker said: "It is important councils approach this in a strategic way to make sure they spend their money wisely.
"It is very easy to fritter money away in this area."
Councillor Martin Mancey, who is responsible for transport in Hull, said that the central funding was not enough, and the council was diverting money from road improvements schemes to pay for repairs.
"It's a question of trying to get the best from the limited resources we've got," he said.
"I do recognise, and the report makes it very clear, that the situation isn't going to improve. In fact, unless we can get more investment in maintaining our roads we will see a continual decline."
The report is to be discussed by councillors later today.