Residents in Immingham return home after flooding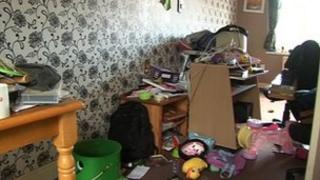 Residents in a Lincolnshire town have returned home after flooding caused by heavy rainfall forced some people from their homes.
Shoreline Housing, which owns former council homes in Immingham, said 20 of its properties were affected.
Four homes were left uninhabitable and residents were provided with alternative accommodation for the night.
One tenant said the water covered the whole downstairs of her home.
Natasha Watson said she was taken by surprise by the speed of the flooding.
"It came through my walls at the bottom both front and back," she said.
"It literally just covered my carpets, my laminate flooring, my kitchen, all covered.
"All my electrical appliances that were on the floor are now ruined. I'm not insured, so I'll have to replace them myself."
Humberside Fire and Rescue Service were called out to deal with flooding in Hadleigh Road, Langley Walk and Manby Road.
Shoreline Housing said it had given out sandbags to protect homes including the sheltered housing scheme in Pelham Road.
'Community spirit'
Shoreline Housing chief executive Tony Bramley said: "Our first priority is the welfare of our tenants, who are understandably upset by this incident.
"Our officers have been in immediate contact with those who have been affected to ensure their safety and provide assistance.
"A big thank you to local residents who have shown true community spirit, helping each other.
"We will continue to support residents and our officers will assess the damage and provide advice and support in regards to health and safety, cleaning and repair of their homes and insurance."