East Yorkshire council agrees new recycling targets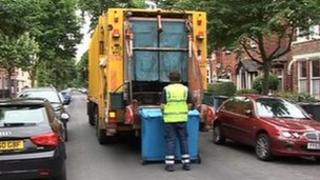 New recycling targets have been agreed by East Riding of Yorkshire Council in an attempt to cut costs on sending waste to landfill.
The aim is to recycle 65% of the county's waste by 2020.
The council said it was taxed £64 for every tonne of waste it sends to landfill with the cost increasing by £8 per tonne each year.
Meanwhile residents in Hull are being asked for their views on bin collections by the city council.
Hull City Council currently collects black waste bins every week while the blue and brown recycling ones are emptied fortnightly.
The public consultation into the frequency of bin collections came as part of a review of its waste management, the council said.
Last week, the council's cabinet also agreed a new recycling target of 60%.
Councillor Symon Fraser said: "It is staggering what our residents have achieved over the past five years. When the recycling target of 45% of all household waste was set back in 2006 it seemed an impossible task but it has been achieved."
East Riding of Yorkshire Council is currently running a trial of fortnightly waste bin collections.
It said the move was in response to demands from the public to increase the rate of collection of the recycling bins.