Hull caravan firm Willerby Holiday Homes cuts 193 jobs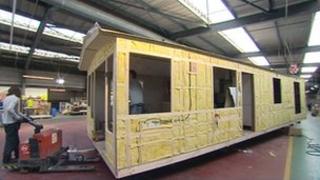 A Hull-based caravan manufacturer has announced it is to cut 193 jobs.
Willerby Holiday Homes blamed continuing economic uncertainty and said it needed to "ensure the health and future of the business".
In May the company warned that up to 350 jobs out of the 688-strong workforce could be lost.
The move comes months after the industry successfully campaigned to get the government to back down on imposing 20% VAT on static caravans.
Earlier this year the National Caravan Council (NCC) claimed the introduction of 20% VAT on static caravans would lead to more than 7,000 job losses in the industry.
Following widespread opposition from MPs of all parties, the government reduced this to 5%.
'Health and future'
Reacting to the news, Labour MP Karl Turner, for Hull East, tweeted: "Terrible news about Willerby Holiday Homes announcing job losses. Goes to prove the introduction of 5% caravan tax bad for the economy."
Hull North MP Diana Johnson, also Labour, said: "I'm saddened to hear that 193 local jobs are to go from Willerby Holiday Homes in Hull.
"This is exactly why I was pressing the coalition ministers in the Commons this week on the impact on demand and jobs in the UK caravan industry, 90% of which is around Hull, of 5% VAT on static caravans."
The firm said employee numbers would be reduced over a six-month period starting from September.
A statement said: "The company is saddened at the need to make any level of redundancies but nonetheless has to ensure the health and future of the business on behalf of remaining employees, customers and broader stakeholder groups.
"The reduced level of employee redundancies from the 350 initially estimated in May is a result of the company's view of its market in the ongoing tough economic climate together with the government's decision to limit the increases in VAT from the original 20% proposed."