Yorkshire Water to investigate Goole pumping station failure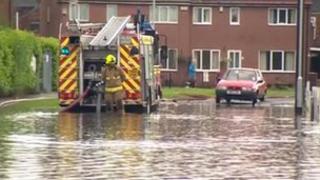 A water company is to investigate the impact a failure at a sewage pumping station had on flooding in an East Yorkshire town.
Yorkshire Water has admitted that storm waters on 5 July damaged some pumps at its Carr Lane facility in Goole.
Several properties in the town were affected by flooding after heavy rainfall.
The company was criticised for failures at the same station during flooding in August 2011.
In a statement the company said: "Yorkshire Water has and will continue to work alongside the council and emergency services to do everything we can to support householders and businesses affected by the flooding.
"The storm damaged some pumps and we have been doing everything we can to maintain as close to maximum pumping capacity during these difficult conditions."
The company added it was not yet able to establish the exact sequence of events but would be investigating the incident fully.
Yorkshire Water had agreed to fund a £275,000 study of the drainage and sewerage systems in Goole in January 2012 after around 50 homes were flooded in August 2011.